And So The
Adventure Begins
You've chosen the most enchanting place on earth for your wedding – Ibiza. With its famed sunsets, lush countryside, and stunning beaches, Ibiza sets the stage for your special day.
We are a full-service wedding planning experience company, not just wedding planners. Meaning we take care of your entire wedding planning journey from the moment you sign up, right through to the wedding itself.
Our completely personalised service ensures that your wedding is crafted uniquely for you. With a full team of planners and stylists, we're there every step of the way.
Explore our exclusive list of trusted suppliers, all handpicked based on the essence of 'Your Day Your Way.' Your vision becomes our obsession, ensuring that your wedding day is unmistakably YOURS.
Ibiza Wedding Process
The next steps to start the exciting planning journey for your Ibiza wedding
Your Ibiza Wedding Stylist
Hidden Treasures Ibiza are the only Ibiza wedding planning company to include a team of stylists to design your wedding asthetic, which also includes the decoration itself.
Without distracting from the surrounding areas of the stunning Ibiza landscape,our Ibiza wedding stylists will compliment and enhance each area and moment of your day, carefully working together on moodboards, tablescaping, and searching for the perfect accents.
we leave our imprint on each of our Ibiza weddings by choosing the perfect components to stimulate the senses, where visions, tastes, smells and music all transform into lifelong memories. You will instantly be transported back to moment you danced under the stars each time to encounter a fragment of your wedding senses for the rest of your life.
Weather you are fiercely wild, quiet and contemporary, or barefoot boho at heart, we will enhance your individual style with a unique Ibiza wedding touch
The excitement starts from the moment your guests arrive, as they walk into your breathtaking venue, welcomed with a chilled glass of bubbles and take in the beautifully decorated surroundings. They will instantly know that this is your wedding, because it will be a little piece of you.
Some Of Our Most
Incredible Ibiza Weddings
Take a closer look at these Ibiza weddings planned and styled by Hidden Treasures Ibiza
Admin
2023-07-21T09:58:58+00:00
From a freezing Aberdeen to an editorial style Ibiza wedding, these lovers were uber chic, edgy and just downright cool.
"When I first saw you, it took every ounce of me not to kiss you.
When I saw you laugh, it took every ounce of me not to fall in love.
And when I saw your soul,
It took every ounce of me."
You fall in love,
We'll do the rest.
Exclusive Service
As you and your Ibiza wedding are so important to us, we feel that getting to know each other will not only consummate your Ibiza wedding planning journey, but take your wedding day to a whole new level.
You will be treated to a day of discovering the best and most exclusive Ibiza wedding venues that the island has to offer. You will be picked up from your location, and get to meet the CEO as well as the team, take a look at decoration concepts, meet venue owners, suppliers and much more. Refreshments and lunch service can also be arranged.
This day is a great opportunity to really get to know your planner and ask any questions about your day, the venues and anything else you may wish to discuss.. You will discover so much more as you visit the most beautiful parts of the island that you may not have seen before, and gain a deeper insight into what Ibiza really has to offer. This service is only available to clients of Hidden Treasures Ibiza.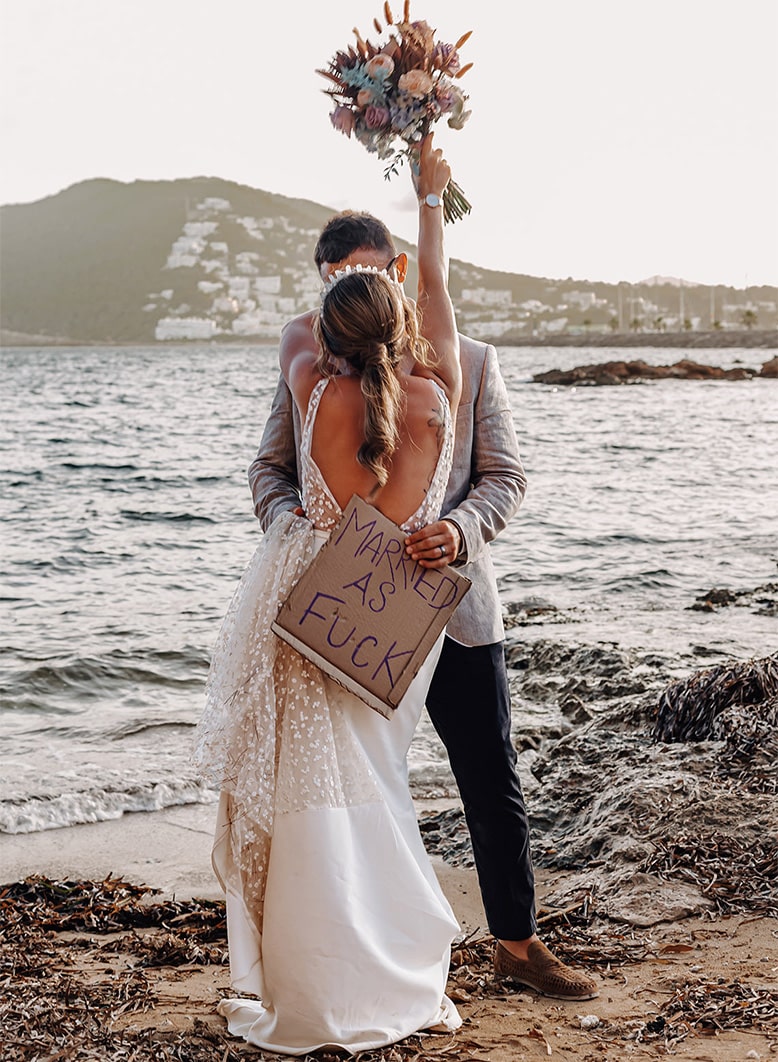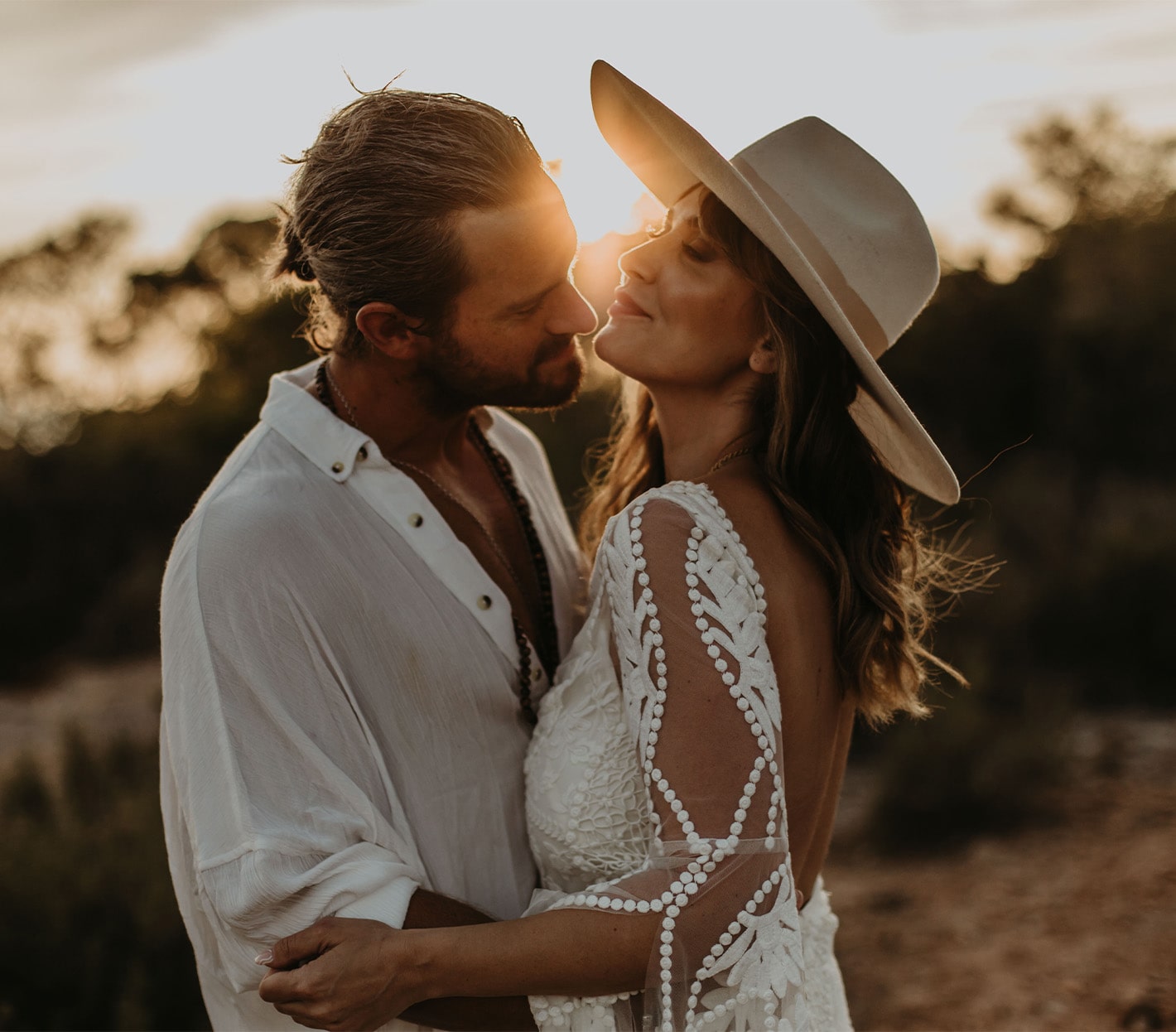 Luxury Elopements In Ibiza
Making a promise to each other, just the two of you, on the most beautiful island in the world, has there ever been anything more romantic?
We have created two beautiful and luxurious elopement packages especially for couples that are looking for an intimate and personal wedding ceremony in Ibiza.
You will experience the bespoke wedding planning service from Hidden Treasures Ibiza, along with the best services from the Ibiza wedding industry.
Simply say "I Do " in paradise.
To find out more about our luxury elopements in Ibiza, book a consultation below
Ibiza Wedding Images
Enjoy a deep dive into our wedding gallery & feel inspired by some of our favourite moments,
captured by our exclusive Ibiza wedding photographers
Lauren Kaycee
A word from our founder
Your wedding planning journey should be stress free and enjoyable. Having someone to lean on when you are feeling overwhelmed or indecisive, is something you will appreciate and is essential when planning a destination wedding.
With Hidden Treasures, you will receive a service that is individual to you, so you can relax knowing that you are being taken care of, throughout every moment.
We create the highest quality weddings. Simplistic, unconventional, boho, classy, and yet whichever style you choose, it will be the perfect match for your personality, because your wedding day deserves this, and so do you.
You will want to put your wedding in the best possible hands, with expert knowledge and experience. I care about your wedding like it was my own, and only offer personal and bespoke weddings to couples whose energy matches my own essence. I personally plan, and I am a huge part of all of Hidden Treasures Ibiza's weddings. This is how you know that you aren't just choosing someone to plan your wedding, but someone to be invested in you, and your entire experience. Just exactly how it should be
Following on from my initial nomination for the LUXlife 2020 Global Wedding Awards, their fantastic team completed their research stage and in March 2020 I was proudly pronounced...
Best Bespoke Wedding Planner 2020 & 2021 and Best Bespoke Wedding Planner & Ibiza Wedding Industry Entrepreneur of the Year 2021 - Awarded by The Global 100. We are also proud to have been featured in many magazines, TV shows and blogs.
Let's Do This
You can request an exclusive call with our founder
by filling in the consultation form.
Our calls are all about you, and how we can create your personalized wedding day. We will discuss in detail your style, budget and priorities, to see how we will guide you through your wedding planning journey. You will also receive invaluable advice and an honest presentation, to take you to the next stage.
For all other enquiries please contact:
office@hiddentreasuresibiza.com
Ibiza Wedding News
What are us wedding planners talking about in Ibiza?
Admin
Pulling out all the stops for shoot 6: The kingpin of all wedding venues, Agroturismo Can Gall
Admin
Sitting pretty on the tiny beach of S'estanyol, Cala Bonita is a venue that has my heart.
Admin
Fairytale Ibiza create living breathing fairy tales for your children, so enchanting, you'll feel you are in a land of make believe…
Admin
The Seven Shoot's Of Summer series, kicked off on 4th June, with some crazy weather, a vintage vespa, and plenty of prosecco!
Admin
The second shoot in the series proves runways and roller skates are not just for the weekend!
Admin
An enchanting location to lose yourself in, even just for a day.